My friend Ben Bunch asked me about a week ago if I would be interested in attending MacWorld, an annual mac product and accessory expo. Seeing that I had that Friday off, i was all for it. Ben, Matt Parcher, and I set off for San Francisco around 8:30AM to get an early start.
First thing we did when we got there was picked up our badges. I was stoked that they put my production company "Bokeh Pictures" on the name tag. We entered the convention like giddy school girls. It was a bit overwhelming at first, but we quickly got used to the layout. Because Ben, Matt, and I all had dSLRs hanging from our necks, we got a lot of looks. We also got a bunch of random people coming up to us talking cameras and technical specs. One booth even thought we were press so they gave Ben a coupon for a free iPhone case.
We easily spent 6+ hours at the convention just walking around checking everything out and talking to people. Just when we thought we'd seen it all, we'd find a new aisle that we somehow missed our first time around. The dangerous thing was, almost everything had a special "expo price." I splurged a bit and got some cool accessories for my iDevices.
First, I bought a "
Pogo Sketch
," which is essentially a stylus for the touchscreen interface. Obviously, I prefer physically touching the screen, but for drawing and doodling in apps like Adobe Ideas and Sketchpad Pro, the stylus is nice. It also works surprisingly well, you just have to make sure not to rest your hand on the screen when scribbling.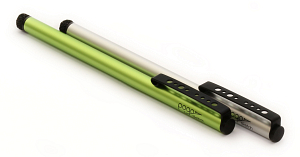 Next, I bought a "
Glif
." This ingenous invention is basically a kickstand for your iPhone. The Glif allows you to prop the phone up in either portrait or landscap as well as mount to a tripod. What I really enjoyed was talking to the creators who were at the booth. Apperently they aimed to raise $10,000 on a website called
kickstarter.com
, and they ended up raising well over $130,000. Overall, a very clever, well-designed piece of plastic that has multiple uses.
Lastly, I bought something I've always wanted, but could never justify buying. A company named Rain makes a very sleek looking MacBook Pro support riser called the "
mStand
." The fact that it was 20% off the MSRP was incentive enough to finally give in. The mStand looks beautiful on my desk next to the 23" Apple Cinema Display. I'm extremely happy with my purchase.
MacWorld was great! I had a lot of fun and can't wait to attend next year. Hopefully, Ben, Matt, and I can make it a tradition to go every year. Not to mention, MacWorld is located in one of my favorite cities ever, San Francisco. After the expo, we all headed out around town to snap some photos.
Here are a few of my favorite captures.
As many already know, I'm what you'd call an Apple fanboy. I'm big on design and aesthetics, so it's important for me that stuff looks sleek and matches. Apple does a great job at creating similar looking, simplistic devices.
Here is my most recent photo of my workspace. Notice the mStand and the Glif doing their respected jobs quite nicely.