**UPDATE** We Won!!! Build-a-Bear purchased our commercial for $7,500! Feels good man.
In an attempt to make some money, a few friends and I got together to work on short spot hosted by
poptent.net
. The contest was to make an advertisement for
Build-A-Bear Workshop
to promote their new "Smallfrys" line of plush animals. After much debate, we settled on a concept that involved a monster costume, which we all hoped would set us apart from the competition. On Friday, David, jenny, and I got together and bought all the necessary building materials to create our epic monster. The green fuzzy fabric we got shed like no other. As much as I'd like to say David and I contributed equally to the building of the monster, it was really all Jenny. As the only one who knew how to operate a sewing machine, David and I were sort of at a loss. Thanks Jenny for your master craftiness!
Here is the head of the costume Jenny made. It sort of resembles an Admiral Ackbar...
On saturday, we met up in Millbrae with David and his girlfriend, who is also conveniently named Jenny (hinting at sarcasm here). David's Jenny had found not only a house, but a mother and daughter who were willing to act in our commercial. We met the family and thanked them for helping us with our project. The daughter, who was about seven, was a bit timid at first. Although, once Jenny put the monster costume on, it was nothing but giggles. Even from behind the camera, I could not stop cracking up. The way the mouth on the monster sort of sagged and flopped when Jenny talked was hilarious.
Millbrae was already excruciatingly hot, but to be in a green fuzzy monster costume was torture. Because of this we had to shoot quickly so as not to overheat our awesome actress Jenny. Both the mom and the girl were extremely good sports about doing things a number of times from different angles. It was both a challenge and a blast to work with a child actor. you really have to break down an action into steps otherwise our young actress would rush and blend all the actions into one. She was great and we got some really genuine expressions and emotions out of her.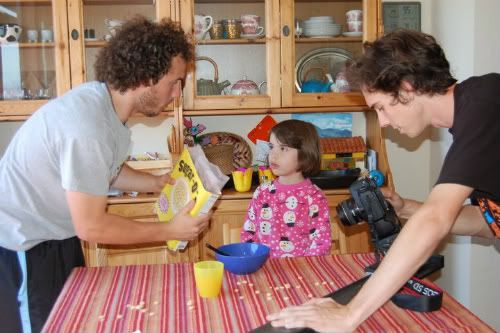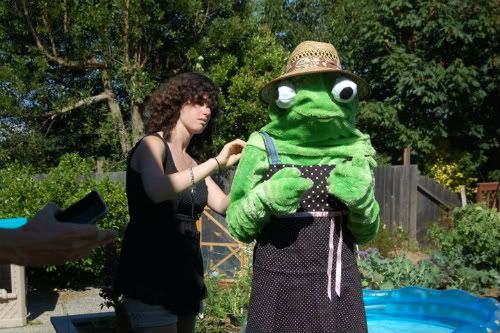 When $7,500 is at stake, it's no wonder there were so many last minute entries. After the contest closed yesterday (July 4th 9pm), there were 138 video submissions in total. I feel a little better about our commercial being one of the "staff favorites" along with 26 other videos, but there are some really great professional-looking ads in the running. All we can do now is keep our fingers crossed...
Check out our entry!